<![if !vml]><![endif]>

www.U-35.com
The Homepage for U-35, a Type VII U-Boat
... 1936 - 1939 ...
U-35 crew member Georg Ludwig Hengen

Georg Ludwig Hengen was born on 07 October 1908.
<![if !vml]>

<![endif]>A pre-war photograph; Georg Hengen is on the far left. [60]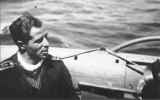 Georg Hengen in Spanish waters.
Georg Hengen received the Spanish Cross for participating in the Spanish Civil War while serving on U-35 and in the 3rd Torpedo-Boat Flotilla, "Tiger".
Prior to the first war cruise, Georg Hengen lost his ring finger when jumping off the conning tower. Willi Dietrich served as Obersteuermann (Chief Navigator) of U-35 during the first war patrol as his temporary replacement. Georg Hengen returned to U-35 for the second war patrol.

Upon capture, Georg Hengen was assigned POW Number 37307.
<![if !vml]>
<![endif]>Georg Hengen (left), with his daughter Inge and Gerhard Stamer in 1953. [60]

Georg Hengen passed away on 11 June 1996, and is survived by his daughter Hannelore Hengen, who is a major contributor to this website.


Seeking any additional information and pictures related to U-35
2018-10-18
URL: HTTP://WWW.U-35.COM
© 1999-2021

(relative of U-35 Chief Engineer Gerhard Stamer)