www.U-35.com
The Homepage for U-35, a Type VII U-Boat
... 1936 - 1939 ...
U-35
Watch Officer Hans Jenisch
Hans Jenisch was born on 19 October 1913, and entered the Reichsmarine in 1933. He was assigned to U-35 as a watch officer in summer 1937, with the rank of Leutnant zur See.

The signature of Hans Jenisch in September 1937.
He became a watch officer on U-32 in 1938, and took command of U-32 on 12 February 1940. He became a prisoner of war on 30 October 1940.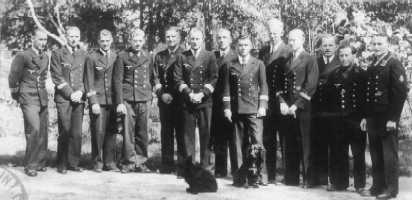 In the Gravenhurst POW camp, from left: Gerhard Stamer (U-35), Heinz Erchen (U-35), Hermann Beckmann (U-27), Albert Schrader (U-35), Werner Lott (U-35), Johannes Franz (U-27), Schilling (L.I. U 33), Hans Jenisch (U-32), Jonny Roters (U-35), Johannes Becker (U-33), Anton Thimm (LI, U-32), Fritz Erbshäuser (U-32), [unknown]. [76] The dog on the left was named "Hexe" (witch) and belonged to Jonny Roters; the dog on the right was named "Flaps" and belonged to Becker. [33]

Hans Jenisch joined the Bundesmarine in 1956, retiring in 1972 at the rank of Kapitän zur See. He passed away on 29 April 1982.



Seeking any additional information and pictures related to U-35

2018-10-18
URL: HTTP://WWW.U-35.COM
© 1999-2021

(relative of U-35 Chief Engineer Gerhard Stamer)