www.U-35.com
The Homepage for U-35, a Type VII U-Boat
... 1936 - 1939 ...




U-35 Chief Machinist Anton Thimm

Anton Thimm was born on 23 August 1903 in Blumberg, and joined the Reichsmarine on 01 October 1924. He was Chief Machinist of U-35 as of the commissioning on 03 November 1936.

U-35 at commissioning on 03 November 1936. From the left, Anton Thimm is the first man without a white belt. [78] Hans Fechter, Erwin de Terra, Karlgeorg Schuster, Klaus Ewerth, Otto Kretschmer, Willi Ensuleit, Walter Arnaschus and Kurt Schmidt are also recognizable.

The crew of U-35 on about 05 December 1936, including Anton Thimm. [78]
Anton Thimm transferred to Engineering Officer training, and became Chief Engineer of U-32. On 30 October 1940, he became a Prisoner of War.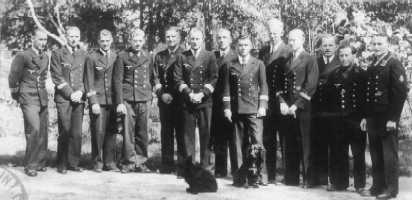 In the Gravenhurst POW camp, from left: Gerhard Stamer (U-35), Heinz Erchen (U-35), Hermann Beckmann (U-27), Albert Schrader (U-35), Werner Lott (U-35), Johannes Franz (commander, U-27), Friedrich Ernst Otto Schilling (LI, U-33), Hans Jenisch (commander, U-32), Hans-Joachim Roters (U-35), Johannes Becker (2WO, U-33), Anton Thimm (LI, U-32), Fritz Erbshäuser (U-32), [unknown]. [76] The dog on the left was named "Hexe" (witch) and belonged to Hans-Joachim Roters; the dog on the right was named "Flaps" and belonged to Becker. [33]

Anton Thimm was released from captivity in June 1947 and emigrated to the United States in 1949.

He lived in New York City and died in January 1970.



Seeking any additional information and pictures related to U-35

2016-01-01
URL: HTTP://WWW.U-35.COM
© 1999-2021

(relative of U-35 Chief Engineer Gerhard Stamer)