<![if !vml]>

<![endif]>www.U-35.com
The Homepage for U-35, a Type VII U-Boat
... 1936 - 1939 ...

<![if !supportLineBreakNewLine]>
<![endif]>
U-35 crewmember Walter Konradt
Walter Konradt was born 20 Feb. 1918, and joined the crew of U-35 for its final cruise in November 1939.
<![if !vml]>

<![endif]>A photo of POWs at the Bowmanville POW Camp. Standing, left to right: [not identified], [not identified], Kurt Grosser, Theodor Schütt, Siegfried Bruse. Seated, left to right: Paul Fichte, Walter Konradt, [not identified], [not identified], Peter Schwarz. [48]
Walter Konradt traveled around Germany as a harmonica player for a few years after repatriation. Fearing a new war in Europe between the Russians and Americans, and with pleasant memories of his years in incarceration, he returned to Canada to live in the 1950s. [40,46]
<![if !vml]>

<![endif]>Walter Konradt in 1982.

1982: Reunion in Neuss on the Rhine, organized by Lucia and Erich Bartold May:
<![if !vml]>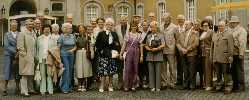 <![endif]>Photo: Augustusburg palace in Brühl. L-R: Inge Lott, Walter Konradt, Friedrich-Hermann Vollmer, Jonny Roters, Martha Konradt, unknown, Lucia May, Werner Lott, Charlotte Vollmer, Grete Balke, Wilhelm Silbernagel (guest), Mrs. Silbernagel, Änne Horstkötter Gustav Horstkötter, unknown (girlfriend of Jonny Roters), Albert Göbel (guest), unknown, Erich Bartold May, Inge Pfeifer, Heinz Pfeifer, Peter von der Helm, Martin Müller, Mrs. Schwarz, Maria Weigand, unknown, Willi Jacob, unknown, Johannes Weigand. [54]
Walter Konradt passed away in March 2004 in Parksville, British Columbia, Canada.
Seeking any additional information and pictures related to U-35


URL: HTTP://WWW.U-35.COM
© 1999-2022

(relative of U-35 Chief Engineer Gerhard Stamer)