www.U-35.com
The Homepage for U-35, a Type VII U-Boat
... 1936 - 1939 ...


U-35 crew member Erich Bartold May

Erich Bartold May was born on 10 November 1913.





U-35 underway during the Spanish Civil War.
The national colors of black, white and red are painted the full height of the front of the conning tower for easier identification; the superimposed national badge is presumably gold or yellow picked out with black.
The seen seem to wear the four-button single-breasted jacket of the pre-war brown working denims,
with leather trowsers and dark blue fall-collar sweaters; and note that the flat seaman's cap is still worn by all ratings. [8]
In front: Walter Arnaschus, Erich May, and Ernst Wensorra [33]

Espanola POW Camp, Canada.
Standing, from left: Hannes Thieme, Karl Schnute, Erich May, Hubert Hirsch, Wilhelm Janssen.
Seated: Walter Kalabuch, Paul Liebau, Gottlob Wilhelm Fischer, Willi Jacob, Martin Müller.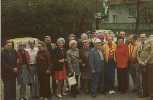 Erich May and his wife Lucia (Lutz) at a reunion of the U-35 crew.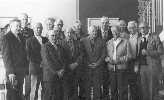 The 1980 reunion in Emden, Germany.
L-R: Albert Schrader, Hans-Joachim "Jonny" Roters, Friedrich-Hermann Vollmer, Willi Jacob, Paul Liebau, Heinz Pfeifer, Martin Müller, Gustav Horstkötter, Wilhelm Janssen, Werner Lott, Karl Sommerer, Erich Bartold May, Peter von der Helm, Gerhard Stamer. [55]



1982: Reunion in Neuss on the Rhine, organized by Lucia and Erich Bartold May: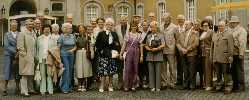 Photo: Augustusburg palace in Brühl. L-R: Inge Lott, Walter Konradt, Friedrich-Hermann Vollmer, Hans-Joachim "Jonny" Roters, Martha Konradt, unknown, Lucia May, Werner Lott, Charlotte Vollmer, Grete Balke, Wilhelm Silbernagel (guest), Mrs. Silbernagel, Änne Horstkötter Gustav Horstkötter, unknown (girlfriend of Hans-Joachim "Jonny" Roters), Albert Göbel (guest), unknown, Erich Bartold May, Inge Pfeifer, Heinz Pfeifer, Peter von der Helm, Martin Müller, Mrs. Schwarz, Maria Weigand, unknown, Willi Jacob, unknown, Johannes Weigand. [54]

Erich May in 1982.

Erich May passed away in Neuss, Germany on 27 March 1993, and is survived by his wife Lucia (Lutz) and their two daughters. [46,62]





Seeking any additional information and pictures related to U-35


URL: HTTP://WWW.U-35.COM
© 1999-2021

(relative of U-35 Chief Engineer Gerhard Stamer)