www.U-35.com
The Homepage for U-35, a Type VII U-Boat
... 1936 - 1939 ...
U-35 crew member Gerhard Freier

Gerhard Freier was born on 11 April 1919, and became a crewmember of U-35 in April 1939.
He was assigned POW Number 37318.

U-35 crewmembers assembled at the Grande-Ligne POW camp in Quebec, Canada, 1944.
Back row, left to right: Gerhard Freier, Heinz Erchen, Hans-Joachim Roters, Gerhard Stamer, Paul Fichte
Front row (seated), left to right: Albert Schrader, Siegfried Kienast, Werner Lott, Peter Schwarz, Kurt Grosser [33]

POWs assembled at the Bowmanville POW Camp.
Siegfried Kienast is seated, second from left, and Gerhard Freier is in the back row on the far right. [53]

Walter Roloff with wife Christel Roloff, and Gerhard Freier with wife Gerda Freier, in 1992. [56]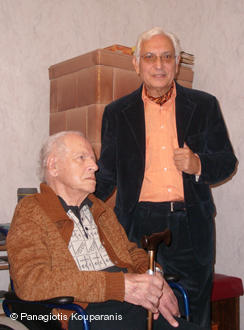 Gerhard Freier and Evangelos Angelakos featured in the Greek edition of Deutsche Welle after meeting on 23 October 2009.
Gerhard Freier passed away on 21 September 2010.



Seeking any additional information and pictures related to U-35

2018-10-18
URL: HTTP://WWW.U-35.COM
© 1999-2021

(relative of U-35 Chief Engineer Gerhard Stamer).