www.U-35.com
The Homepage for U-35, a Type VII U-Boat
... 1936 - 1939 ...
U-35 crew member Paul Liebau

Paul Liebau was born on 19 May 1916.

Wilhelm Janssen and Paul Liebau depart U-35 after return from the first war cruise. [32,33]

Espanola POW Camp, Canada.
Standing, from left: Hannes Thieme, Karl Schnute, Erich Bartold May, Hubert Hirsch, Wilhelm Janssen.
Seated: Walter Kalabuch, Paul Liebau, Gottlob Wilhelm Fischer, Willi Jacob, Martin Müller.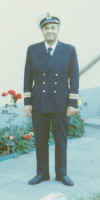 Paul Liebau joined the Bundesmarine after the war, and rose to the rank of Kapitänleutnant.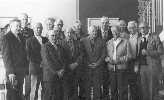 The 1980 reunion in Emden, Germany.
L-R: Albert Schrader, Hans-Joachim "Jonny" Roters, Friedrich-Wilhelm Vollmer, Willi Jacob, Paul Liebau, Heinz Pfeifer, Martin Müller, Gustav Horstkötter, Wilhelm Janssen, Werner Lott, Karl Sommerer, Erich Bartold May, Peter von der Helm, Gerhard Stamer. [55]


Paul Liebau died on 31 March 1993, and is survived by his wife Käthe Liebau and their daughter.






Seeking any additional information and pictures related to U-35

2014-12-28
URL: HTTP://WWW.U-35.COM
© 1999-2021

(relative of U-35 Chief Engineer Gerhard Stamer)