www.U-35.com
The Homepage for U-35, a Type VII U-Boat
... 1936 - 1939 ...
U-35 crew member Karl Schnute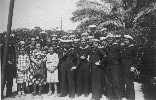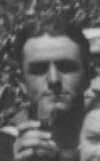 The crew of U-35, including Karl Schnute, in Spain. [44]

Espanola POW Camp, Canada.
Standing, from left: Hannes Thieme, Karl Schnute, Erich Bartold May, Hubert Hirsch, Wilhelm Janssen.
Seated: Walter Kalabuch, Paul Liebau, Gottlob Wilhelm Fischer, Willi Jacob, Martin Müller.
Seeking any additional information and pictures related to U-35

2021-02-22
URL: HTTP://WWW.U-35.COM
© 1999-2021

(relative of U-35 Chief Engineer Gerhard Stamer)